Aloha!

Thank you for visiting Art-Broker.com and allowing us to introduce you to some of the finest art in the world. It is always a pleasure to meet a fellow art enthusiast and to assist in making our art a part of your life.
For information on Ordering, Shipping and our Refund Policies.

For information on proper Art Care.
My name is Laura Brough and I'm an art collector, consultant and entrepreneur. I've operated various proprietorships in the past so running a company is nothing new to me. I have two beautiful boys and a supportive husband who helped build this site. I left work in January 1998, where I was an art consultant for a few years in one of the largest art gallery chains in North America. I gained a great deal of experience with them, but after the birth of my second child I wanted to spend more time at home with them (domestic engineer).
With my artist contacts and computer experience I was able to put together a professional art consultant business. With tremendous support and fantastic agreements with the artists I have the ability to offer some of the finest art work available at 10-30% below retail prices.
I created Art-Broker.com because of the needs of the collector. You may not be able to travel to the gallery for the art you want, or maybe you want to take the time to browse without the sales staff breathing down your neck. Or maybe you need help in selling your artwork, and the gallery you bought it from can not assist you in that capacity. Art-Broker.com is turned on 24 hours a day, around the world...and no one will notice if your are in your pajamas.
My business is a simple one... You contact me when you have located what you want or need assistance finding the right piece at a comfortable price. Every page informs you what artist you are looking at, the price ranges for the collection and a biography of the artist to familiarize you with them. You are given all the information upfront, no sales pressure, no closed rooms to corner you in... Then when you decide to purchase an art piece, I call the artist and confirm availability. The artist ships the artwork directly to you within 4 weeks. If you are not 100% satisfied, a replacement can be arranged (be advised to review our return/refund policies, as there may be restocking charges assessed to you).
For information on Ordering, Shipping and our Refund Policies.

I want all of my clients to be totally satisfied with my service. I want to work with you for the years to come and that means making you happy. For more information on my business policies, click on the appropriate links on the top of this page.
I'd like to thank you again for your interest in Art-Broker.com and look forward to serving you. Feel free to contact me should you have any questions or comments, 1(877) 877-3116 toll free, or 1(808) 395-3280 or email service@art-broker.com - Enjoy!

Sincerely,
ART-BROKER, LLC
Laura Brough,
Owner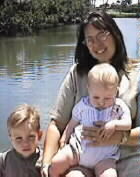 Evan, Dylan & I



James Coleman, Me & Janet Stewart



Myself with Dana Queen



Myself & Al Hogue



Myself & Wyland